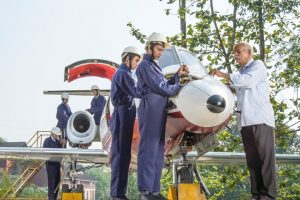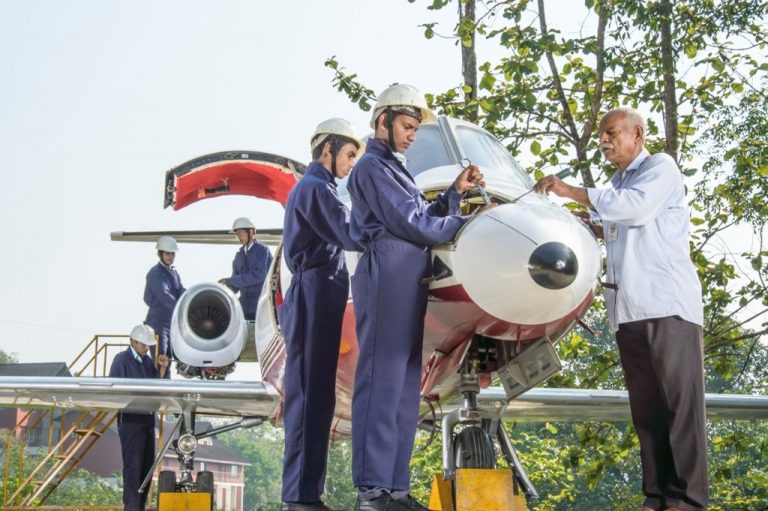 Welcome to TOMS College of Engineering – Shaping the Future of Aeronautical Engineering
About Us: TOMS College of Engineering is one of the best B Tech in Aeronautical Engineering colleges in Kerala, India affiliated to the Kerala Technological University (KTU) and approved by the All India Council for Technical Education (AICTE). With over 20 years of experience in the field of Aeronautical training, we take pride in nurturing skilled professionals in the exciting realm of Aeronautical Engineering.
Our Commitment: At TOMS, we are committed to providing top-notch education and practical training to our students, enabling them to excel in the ever-evolving field of aviation. With a deep passion for aircraft and aviation technology, we strive to impart industry-relevant knowledge and skills to our aspiring engineers.
State-of-the-Art Facilities: We believe in learning by doing, which is why we have established a cutting-edge infrastructure that includes two live aircrafts and a comprehensive range of engines. These resources provide our students with hands-on training opportunities, allowing them to develop a strong understanding of aircraft mechanics, systems, and maintenance.
Experienced Faculty: Our team of highly qualified and experienced faculty members brings a wealth of industry knowledge to the classroom. They possess extensive expertise in various areas of aeronautical engineering, ensuring that our students receive the best guidance and mentorship throughout their academic journey.
Comprehensive Curriculum: Our meticulously designed curriculum is a blend of theoretical knowledge and practical applications. It covers a wide spectrum of subjects such as aerodynamics, propulsion systems, aircraft structures, avionics, and flight mechanics. This comprehensive approach equips our students with a solid foundation and prepares them for real-world challenges in the aviation industry.
Industry Collaborations: At TOMS, B Tech in Aeronautical Engineering Colleges in Kerala, India. We understand the significance of industry exposure in shaping successful careers. Hence, we have forged strong collaborations with leading aviation organizations and institutes. Through internships, industrial visits, and guest lectures, our students gain invaluable insights and practical experience, enhancing their employability and industry-readiness.
Career Opportunities: Aeronautical Engineering opens up a world of exciting career prospects. Graduates from our parent Institution have gone on to excel in diverse roles such as aircraft design engineers, maintenance engineers, flight test engineers, aerospace consultants, and research scientists. Our dedicated placement cell works tirelessly to connect our students with renowned aviation companies and organizations.
BTech in Aeronautical Engineering Careers
Aeronautical Engineering Scope
The Aeronautical Engineering scope in India is growing. It will raise the demand of Aeronautical Engineering career. Aeronautical Engineering scope is in demanded both India as well as abroad. They are required in Airline Services as well as aircraft-manufacturing units in private and public sectors.
After completion of the course, the Aeronautical course of engineering scope lies in such a way that at the initial level these engineers are hired as Junior Engineers or graduate engineer trainees. Promoted to the suitable designation,based on their performance.
The Aeronautical Engineers can apply in the following fields after completion of Aeronautical Engineering course: –
Airlines
Airlines are a company that provides air transport which helps passengers to travel. The role of the Aeronautical engineer is that they use their technical knowledge to improve flight safety and fuel efficiency, reduce costs and address the environmental impact of air travel.
Aircraft Manufacturing Companies
As the Aeronautics fields are related to the manufacturing of the aircraft's, so they play an important role in these organizations.
Aircraft Part Manufacturing Companies
This company builds the components of an aircraft to manufacture those components Aeronautical Engineers are appointed.
Civil Defense Forces
Aeronautical Engineering career can be in designing, manufacturing, and testing military weapons, aircraft, and missiles.
Research Organizations
Aeronautical Engineer builds their career in research organizations such as ISRO, NASA, DRDO, etc.
Maintenance, Repair and Overhauls (MRO) Industries
They use their technicality to improve the specialized function performed in maintenance actions on aircraft and their components.
Aeronautical Engineers are Placed in Following Industries :
Join TOMS College of Engineering, one of the best B Tech in Aeronautical Engineering Colleges in Kerala, India and embark on an exhilarating journey towards a rewarding career in Aeronautical Engineering. Discover your passion, unleash your potential, and soar high with us.
Top Recruiting Airlines
Air India
IndiGo
SpiceJet
GoAir
Air Deccan
AirAsia India
Blue Dart Aviation
Pinnacle Air
Spirit Air
Supreme Airlines
TajAir
Vistara
Alliance Air
Luwang Air
Titan Aviation
Ventura Air Connect
Top Research Organizations
NASA
ISRO
DRDO
European Space Agency
JAXA
SpaceX
Canadian Space Agency
Top Aircraft Manufacturing Organizations
Airbus Corporate Jets
Boeing Business Jets
Bombardier Aerospace
Dassault Falcon
Embraer
Gulfstream Aerospace
Pilatus Business Aircraft
Textron Aviation