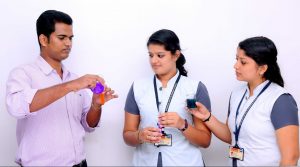 TOMS Engineering College is one of the finest chemical engineering colleges in Kerala. The Chemical Engineering B.Tech at TOMS College of Engineering aims to supply Graduates, with a powerful foundation in scientific and technical data, equipped with drawback determination, teamwork, and communication skills, that may serve them throughout their career. The programme is planned keeping in mind the location Opportunities for Chemical Engineering students.
Why choose TOMS College of Engineering in Kerala for B.Tech in Chemical Engineering?
Bachelor of Technology (B.Tech.) in Chemical Engineering at TOMS College of Engineering is specifically designed with the following objectives in mind:
Practice Chemical Engineering in traditional chemical and energy-related industries as well as in expanding areas of materials, environmental, biomedical, and biotechnology sectors.
Planning curriculum based on Placement Opportunities for Chemical Engineering Students
At the end of the four-year program, every Chemical Engineering Graduate from TOMS College of Engineering will have the ability to:

Apply knowledge of mathematics, science and engineering fundamentals.
Identify, formulate, and solve chemical engineering problems.
Use the techniques, skills and modern engineering tools necessary for Chemical engineering practice.
Design a system, component, or process to meet specified objectives within realistic constraints such as economic, environmental, social, political, ethical, health, safety, manufacturability, and sustainability.
Design and conduct experiments, and to analyze and interpret experimental results.
Chemical Engineering B. Tech course at TOMS offers one of the best placement opportunities among all B.Tech courses. Placement opportunities for chemical engineers are on the increase during the last 20 years. Chemical Engineers are employed in a broad spectrum of industries, filling vacancies open in pharmaceutical firms and biotechnical firms to semiconductor producing firms to start-up firms who are on a track of migrating to the newest laboratory discoveries to large-scale industrial production. Chemical Engineers work as catalysts to develop new ways for manufacture medicines, plastics and a host of other synthetic products. They develop management systems that modify the safe production of merchandise from semiconductors. They work in chemical and crude oil plants; they analysis the results of artificial organs on blood flow; and that they develop the instrumentality and processes necessary for advances in biotechnology.