B Tech in Artificial Intelligence and Data Science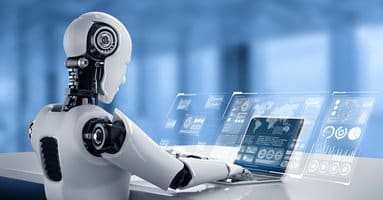 Welcome to the cutting-edge world of Artificial Intelligence (AI) at TOMS College of Engineering for our prestigious BTech program! Affiliated with KTU and approved by AICTE, our comprehensive curriculum has been meticulously crafted to equip students with the knowledge and skills needed to excel in the field of computer science. With over 30 years of experience in teaching computer science, our faculty members are renowned experts who bring their expertise and passion for AI to the classroom.
B Tech in Artificial Intelligence and Data Science Program Overview:
Our BTech in Artificial Intelligence and Data Science program is designed to provide a solid foundation in the principles and applications of AI. Through a combination of theoretical coursework and practical hands-on experience, students will develop a deep understanding of AI technologies and their real-world implementations. The program aims to nurture creative problem solvers and critical thinkers who can harness the power of AI to drive innovation across industries.
Key Features of BTech in Artificial Intelligence and Data Science Course:
Comprehensive Curriculum: Our meticulously designed curriculum covers a wide range of AI topics, including machine learning, natural language processing, computer vision, robotics, and more. Students will delve into advanced algorithms, data analytics, and statistical modeling to gain a deep understanding of AI concepts.
State-of-the-Art Infrastructure:Our institute is equipped with state-of-the-art infrastructure, including dedicated AI labs, high-performance computing systems, and cutting-edge software tools. Students have access to the latest AI frameworks and libraries, allowing them to explore, experiment, and develop AI applications
Experienced Faculty:With over three decades of experience in teaching computer science, our faculty members bring a wealth of knowledge and industry expertise to the classroom. They guide and mentor students, fostering a collaborative learning environment that encourages critical thinking and innovation.
Industry-Relevant Projects:As part of the curriculum, students will undertake hands-on projects that simulate real-world scenarios. These projects provide valuable practical experience and allow students to apply their AI knowledge to solve complex problems, preparing them for the challenges of the industry.
Industry Partnerships and Internships:We have established strong partnerships with leading companies in the AI industry. Through these collaborations, students have the opportunity to participate in internships, gain industry exposure, and develop their professional networks.
Research and Innovation:We encourage students to pursue research and innovation in AI. Our institute fosters a culture of curiosity and exploration, providing resources and guidance for students to conduct cutting-edge research projects in collaboration with faculty members.
Placement Assistance: Our dedicated placement cell works closely with students to help them secure rewarding career opportunities. We have a strong track record of placements in leading AI companies, research institutions, and startups.
Join us in shaping the future with AI! Explore the limitless possibilities of artificial intelligence and data sciencethrough our BTech program. Prepare yourself to be at the forefront of technological advancements and make a lasting impact in the world of AI. Enroll today and embark on an exciting journey towards a successful career in Artificial Intelligence and Data Science.