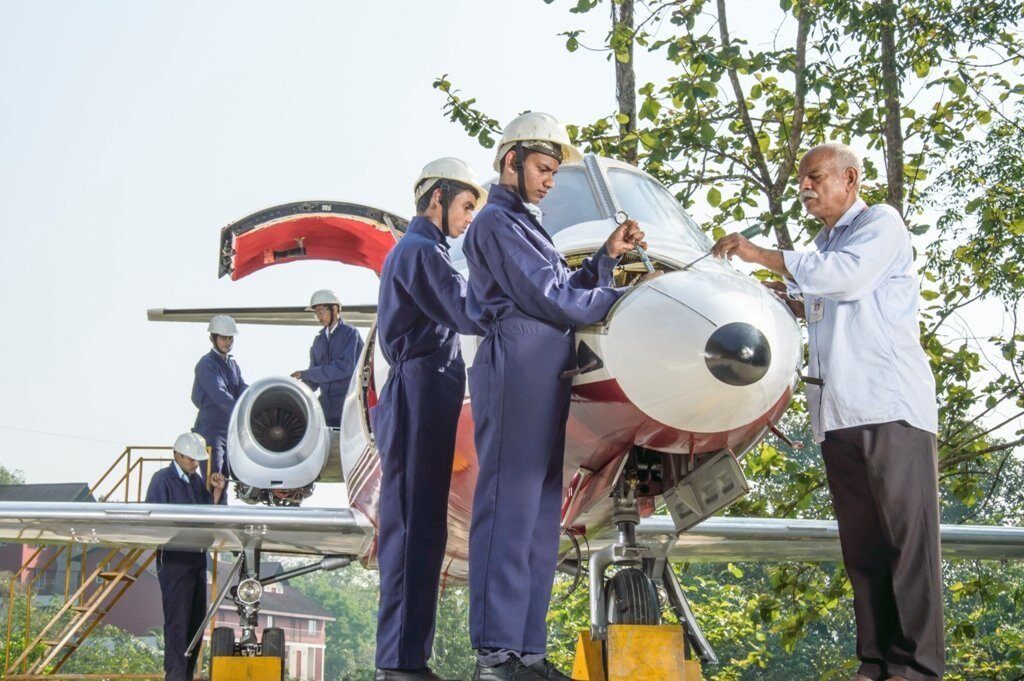 Shaping the Future of Aeronautical Engineering
TOMS College of Engineering
is one of the best B Tech in Aeronautical Engineering colleges in Kerala, India affiliated to the
Kerala Technological University
(KTU) and approved by the
All India Council for Technical Education
(AICTE). With over 20 years of experience in the field of Aeronautical training, we take pride in nurturing skilled professionals in the exciting realm of Aeronautical Engineering.
Our Commitment
: At TOMS, we are committed to providing top-notch education and practical training to our students, enabling them to excel in the ever-evolving field of aviation. With a deep passion for aircraft and aviation technology, we strive to impart industry-relevant knowledge and skills to our aspiring engineers.
State-of-the-Art Facilities
: We believe in learning by doing, which is why we have established a cutting-edge infrastructure that includes two live aircrafts and a comprehensive range of engines. These resources provide our students with hands-on training opportunities, allowing them to develop a strong understanding of aircraft mechanics, systems, and maintenance.
Experienced Faculty
: Our team of highly qualified and experienced faculty members brings a wealth of industry knowledge to the classroom. They possess extensive expertise in various areas of aeronautical engineering, ensuring that our students receive the best guidance and mentorship throughout their academic journey.
Comprehensive Curriculum
: Our meticulously designed curriculum is a blend of theoretical knowledge and practical applications. It covers a wide spectrum of subjects such as aerodynamics, propulsion systems, aircraft structures, avionics, and flight mechanics. This comprehensive approach equips our students with a solid foundation and prepares them for real-world challenges in the aviation industry.
Industry Collaborations
: At TOMS, B Tech in Aeronautical Engineering Colleges in Kerala, India. We understand the significance of industry exposure in shaping successful careers. Hence, we have forged strong collaborations with leading aviation organizations and institutes. Through internships, industrial visits, and guest lectures, our students gain invaluable insights and practical experience, enhancing their employability and industry-readiness.
Career Opportunities
: Aeronautical Engineering opens up a world of exciting career prospects. Graduates from our parent Institution have gone on to excel in diverse roles such as aircraft design engineers, maintenance engineers, flight test engineers, aerospace consultants, and research scientists. Our dedicated placement cell works tirelessly to connect our students with renowned aviation companies and organizations.